A&G's Snow Clearing Services Can Keep Your Business Accessible
Posted by A&G Team on 4 November 2021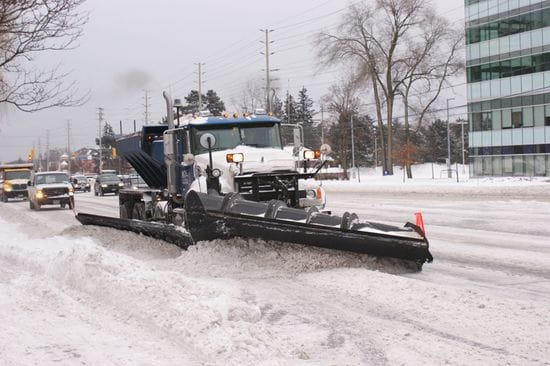 You've swapped out your t-shirts for sweaters, you've gotten out your winter coat, and your snow tires are ready to go. But is your commercial property ready? Once the first flakes start falling, you'll need to ensure your business stays open and functional all winter long. A&G The Road Cleaners is here to help with snow removal that can be configured to your commercial property's needs.
Snow Clearing Services Can Winter-Proof Your Toronto Business
Snowfall can pose a risk to your customers by turning your walkways into snow banks and freezing your parking lot into an ice rink. This can mean slips at best, and more serious accidents and even property damage at worst. If you don't want to worry about your customers' safety when they come to your business in person, A&G The Road Cleaners' fleet of road salting trucks can take a load off your mind.
Our Salting Services Are Sweet!
The first way to start snow removal in Toronto, a city known for its freezing winters, is through road salting. Road salting is a form of chemical snow removal and an effective way to make sure that your parking lot stays safe for your customers. It works thanks to what's called freezing-point depression, a scientific phenomenon whereby the freezing temperature of a solvent--in this case, water--is lowered.
This means that salt doesn't melt the ice completely: it prevents it from forming altogether at a given temperature.
The best time to salt is before heavy snowfall or a freeze; however, the weather can sometimes turn against us unexpectedly. Luckily, our salting trucks can be on the road at a moment's notice, as salt can also be applied over ice to create a safer environment even after the ice has formed. Salt needs to be wet in order to work, and ice always has a thin surface layer of water, which allows the salt to react, weakening the ice enough for it to break down and restore the parking lot or street to a safe environment for drivers and pedestrians.
A&G's Plowing Service in Toronto is Always Ready to Help!
Salting is only part of the story, however. When it snows through the afternoon and well into the night, there's only so much a sprinkling of NaCl will do.
That's when A&G's state-of-the-art fleet of snow plows is ready for action. We know that schedules, needs and weather can change, so we offer seasonal snow clearing services as well as emergency snow plowing. Beyond just plowing commercial properties, we also perform municipal plowing, keeping roads safe for our communities, making commutes easier, and ensuring that children can get to school safely across the GTHA, Barrie, Stoney Creek and Oshawa. Call us when you need us--we'll be there every time.
Once those first few snowflakes start to drift down, you can bundle up worry-free. Whether we see you every day or only in weather emergencies, A&G's fleet of snow plows and road salting trucks will be standing by to keep your business accessible throughout the winter.
Stay ahead of snowfall this winter and let A&G help with all your commercial and municipal snow clearing needs in Toronto. Contact us for more details.
Author:A&G Team