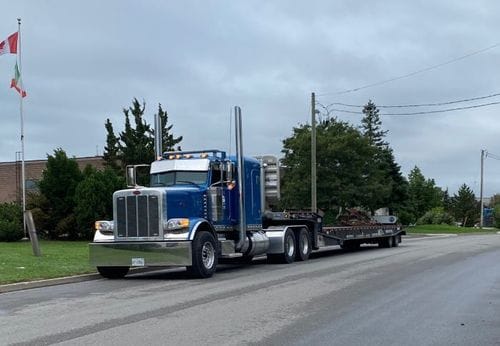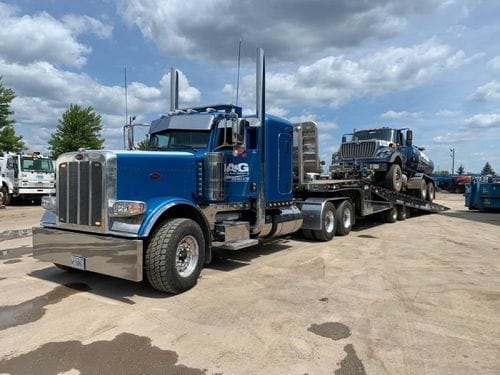 Tilt, Load, and Float Services – Min of 4 Hours
No road maintenance service in Toronto or the GTA can match the fleet of tilt, load, and float trucks available at A&G The Road Cleaners!
Ideal for moving materials and machines to and from construction sites, our cost-effective tilt and load trucks allow for easy unloading and offloading at dock-level height or ground level, making transport effortless.
For full service details, see description below.
Please note that there is a minimum of 4 hours with our tilt and load float services, with each additional hour available at a rate of $165/hr (3 hours onsite +1 hour Travel Time).
Extra charges for Fuel Surcharge, Environmental and overnight fees will apply at time of final invoicing
Transport anything with A&G's comprehensive tilt, load, and float services!
Our Load and Tilt Trucks - The Best Heavy Machinery in the Industry
Our dynamic tilt and load trucks range in size and capacity, allowing us to have the ideal truck on-call for your construction or renovation project 24/7!
Every tilt, load, and float service truck is equipped with a steel deck with the ability to handle heavy loads of up to 50 tons. Outfitted throughout, our tilt trucks offer flexible roll-on/roll-off and winch-on/winch-off capabilities. The remote-controlled winch power system enables us to lift and transport non-operational equipment, such as construction forklifts or skid-steers that require off-site maintenance.
Float Service in Toronto
A&G's float service has expanded exponentially over the past decade, which now carries various float tractors and use trailers.
Our most popular float trailer, the Landoll Tilt and Slide Trailer is ideal for heavy equipment loads, including rollers, pavers, large containers, multiple forklifts, scissor lifts, etc.
Book tilt, load, and float services above or return to all services.