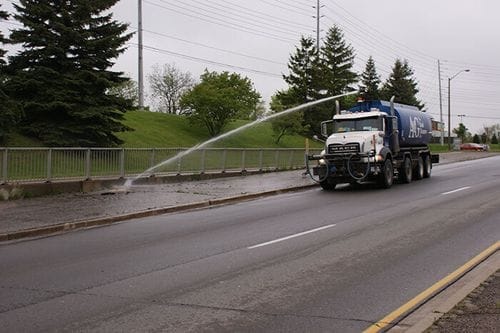 Pressure Washing & Power Washing Services - Min of 4 Hours
Wash away dirt, grime, and debris, and make a strong first impression with A&G The Road Cleaners' pressure washing and power washing water truck services! Our mobile pressure washing is perfect for commercial buildings, municipal sidewalks, parking lots, roads, and more.
For full service details, see description below.
Please note that there is a minimum of 4 hours with our water truck services, with each additional hour available at a rate of $176.00/hr (3 hours onsite +1 hour Travel Time).
Water is an additional $75.00/load.
Extra charges for Fuel Surcharge, Environmental and overnight fees will apply at time of final invoicing
Revitalize heavy machinery and equipment, maximize on-site maintenance or clean up after a messy municipal/commercial construction project, with our end-to-end water truck services.
Book online to schedule our power washing and pressure washing getting you one step closer to creating curb-appeal and added longevity to your building exteriors and paved roads.
Grime amalgamation, salt residue, and air pollution can all contain chemicals that deteriorate paint, stone, or asphalt over time but these issues can easily be avoided by using professional pressure washers and power washers.
A&G's water truck services are commonly used for:
Construction Site Clean Up
Road Compaction
Directional and Geothermal Drilling
Dust Control
Water Delivery and Fill Up
Canon-Enable Sod Watering
All year-long (even in Canadian winter!) pressure washing services have their advantages; Weather-proof professional power washing is a non-invasive way to melt and remove snow/ice build-up around your commercial property or municipal area.
Upping the Ante on Ontario's Rigid Environmental, Health, and Safety Standards
As the most environmentally-conscious road cleaners in Ontario, A&G's commercial pressure washing is no exception. Our machinery, equipment, and heavy-duty cleaning products are tested and proven as green-friendly alternatives to removing tough dirt, grime, and debris. Additionally, our road cleaners take health and safety very seriously, understanding the impact our work has on the communities we serve, and the people within them.
Book water truck services above or return to all services.