A&G awarded 10-year contract with City of Brampton
Posted on 1 December 2017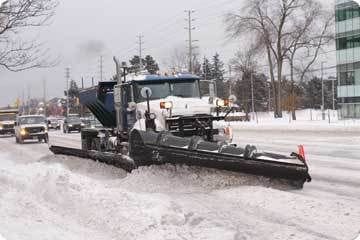 A&G The Road Cleaners Ltd awarded 10-year contract with City of Brampton for Roadway Winter Maintenance.
A&G The Road Cleaners Ltd has been awarded a 10-year contract for snow plowing and cleaning services in the City of Brampton.
Toronto's largest street sweeping & road maintenance service, A&G will be covering all roadway salting and plowing for the east side of the city, including Areas C & D.
A&G secured the decade-long deal thanks to snow plowing & salting services that surpass Minimum Maintenance Standards (MMS), as defined by the Ontario Government. The professional road maintenance crew focuses on reducing hazards of slippery roads & commercial properties for motorists and pedestrians, and maintaining safe school bus routes for children.
When the snowfall comes, A&G deploys its unrivaled fleet of 35 Salter/Plow Combo Trucks, 15 Loaders, two Graders, and two multi-purpose Tractors. The fleet is on call 24/7, always prepared for the next flurry of snow.
Learn more about A&G's municipal snow plowing and salting services by visiting our site. For information about our year-round street cleaning & road maintenance services, click here.