Why Commercial Buildings Need Regular Power Washing
Posted on 13 August 2018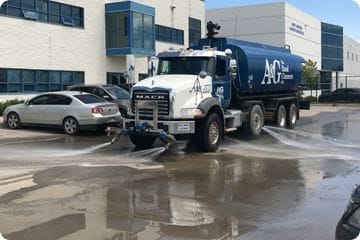 You wouldn't let the summer go by without power washing your windows, so why would you skimp out on pressure washing your commercial business? There are many benefits of commercial power washing, not the least of which is increasing your commercial building's aesthetic appeal.
More than just beautifying the exterior, our power washing services can add longevity, reduce air pollution, and get rid of salt residue and grime accumulation. Here's how our commercial pressure washing business can make your property healthier and prettier.

Cleaning without Harmful Chemicals
Instead of messing around with hazardous chemicals whose runoff could damage the environment, most grime and debris can be blasted away with commercial pressure washing services. At A & G, we take the environment seriously and ensure our commercial pressure washing business has lowest environmental footprint possible through rigorous testing.

Clear Snow and Ice from Working Areas
Commercial pressure washing isn't just for spring cleaning. If your working areas get snowed in during the harsh Canadian winter, our pressure washing services can get your people back to work quickly and easily simply, through the power of power washing.

Save Money with Competitive Commercial Pressure Washing Prices
If your main objection to partaking in the benefits of pressure washing is the price point, the good news is you can get expert power washing services for less from A & G: The Road Cleaners. While other companies might overcharge for this essential service, our commercial pressure washing prices are customer-friendly.
---

When you need to keep your commercial building in tip-top shape, our power washing services are available at prime commercial pressure washing prices. A & G: The Road Cleaners are the GTA's leading provider of pressure washing services and will keep your property beautiful and healthy with minimal environmental impact. Call today!