Prepare for Warmer Weather with Commercial Pressure Washing Services
Posted by A&G Team on 8 April 2021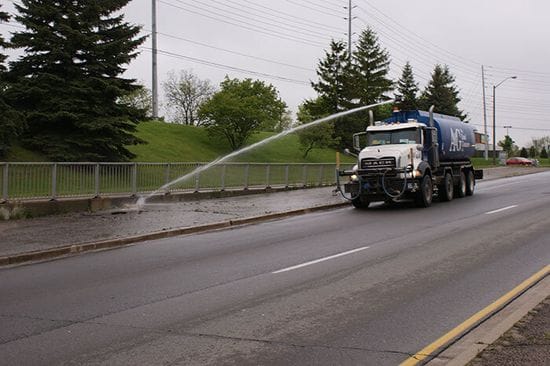 Now that the snow and ice have finally melted away the last memories of winter, it's time for some spring cleaning. Winter can leave outdoor spaces looking rough with salt stains, dirt buildup, and leaves from last Fall. Commercial pressure washing services can help clean up the outside of your property including parking lots, buildings, sidewalks, and roads, and leave it looking refreshed and new! Here are 4 reasons to consider hiring commercial pressure washing companies.
1. Commercial Pressure Washing Helps With Curb Appeal for Your Business
Commercial pressure washing can give your property curb appeal to the general public and potential customers. Having a clean, vibrant building and surrounding area shows the world that you're open for business and gives your property a welcoming atmosphere. Most people make their buying decisions based on their first impression walking through the front door, which means the look and feel of the outside of your property is just as important as what is inside.
2. It Can Help Prevent Slips, Falls, and Illness
Slips and falls can be hazardous in and around any business, for employees and customers alike. Prevention is key, and an industrial high pressure washer can help blast away grime, and even lingering ice that may cause a slipping hazard on sidewalks, or in the parking lot of your property. It's also important to rid your property of built-up pollutants like mold, pollen, and bird droppings to lessen the risk of aggravating employees' or customers' allergies or respiratory disorders. When you're also part of a community, you want to be known as somewhere people can spend time and feel safe.
3. It Can Maintain Your Building and Surrounding Areas
Using commercial pressure washing equipment can also increase the lifespan of building exteriors and paved roads, as grime buildup, salt residue, and air pollution can all contain chemicals that deteriorate paint, stone, or asphalt over time. You can even power wash equipment that has been used during the winter and is in need of a good clean!
4. It Uses One Machine to Clean All Areas
Whether it's an asphalt sidewalk, aluminum siding, stone, concrete, or brick walls, dumpster areas, or parking garages, you can use a single commercial pressure washer company and one truck to get all of these jobs done, and done right. No need to tackle different areas with various products or services like you may have done in previous years. And that means peace of mind knowing that all of the spring cleaning items can be checked off your list with a single call or booking.
To book your commercial pressure washing service from A&G, contact us today or book our power and pressure washing services online!
Author:A&G Team