Does a Construction Site Require Salting & Snow Plowing Services?
Posted on 13 November 2018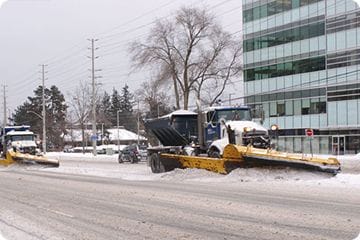 With the onslaught of winter coming up, now is the time to think about preparing your construction site for the inevitable difficulties caused by ice and snow.
Instead of coping with the elements, consider contacting a local commercial snow plowing service to keep your site clear of snow and keep the roads salted to prevent accidents or damage to your machines.

The Benefits of Commercial Snow Plow Services
While you might be leery of commercial snow plowing rates, they pay for themselves in no time by reducing the amount of days you miss on the job site due to inclement weather, as well as preventing accidents caused by snow and ice.
Of course, the biggest benefit to contracting a local snow plow service in an area with intense winters is that it allows you to continue working on a job site deeper into the season, instead of having to hibernate when the snow comes.

Why You Should Choose A&G's Snow Plow Services
At A&G, our commercial snow plowing services are trusted by municipalities and construction companies across the GTA, including Newmarket Alliston, Mississauga and Brampton.
Our fleet of heavy-duty snow plows are kitted out to remove snow and ice from industrial areas and construction sites with hydraulic powered plows and dump style spreaders for easy delivery of salt in bulk or to apply to the road.
We also offer 24/7 emergencys now removal, so you don't have to worry about giving your guys a snow day after a bad blizzard. We can also prep your site in advance of a bad snow storm with a combination of salt, sand, and pre-wetting techniques that prevent ice from building up.

To learn more about our snow plow services and competitive commercial snow plowing rates, contact us today. A&G is one of the oldest and most successful local snow plowing services in the GTA.