Everything You Need to Know About Disposal Bin Rental in Toronto
Posted by A&G Team on 14 July 2021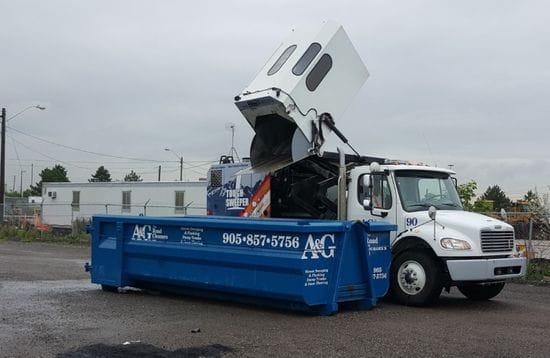 Whether you're working on a commercial, construction, demolition, or industrial project, or even just renovating your home, you may find yourself in need of a disposal bin rental. Renovations and any type of construction projects can cause a lot of waste and disposal bins are typically the best way to manage the large quantity of materials that come out of the project.
Why Rent a Disposal Bin in Toronto?
Disposal bins have many desirable qualities, including their size and convenience. They can save you from making 20 trips a day to a waste disposal site during a home renovation, for example. They are convenient because disposal bins are also very durable. You can toss things into them from heights and throw heavy objects into them without worrying about breaking the bin. They are also made for the mess, so even if you are doing an outdoor renovation or construction project, which can involve the removal of soil, dirt, and concrete, you don't have to worry about the cleanliness of the bin. If you were using your car or a rented pick-up truck to get rid of waste, you would have a secondary clean-up project on your hands!
Affordability is also a concern when it comes to construction bin rental in Toronto, as well as waste management needs for the project. A&G makes waste management simple and affordable, offering competitive rates for disposal bin rental costs across Toronto, as well as 24/7 service throughout the GTA. If you work in construction, you know that projects can change as they move ahead and so a waste management company that will be available 24/7 whenever you need is a huge bonus. Take the pressure out of your project!
Environmentally Conscious Disposal Bin Rentals
At A&G, we pride ourselves on civic cleanliness and safety. That includes our garbage bin rentals in Toronto and the surrounding area. We have a Ministry of the Environment (MOE) license for waste transport, handling, and processes in Ontario, so we always adhere to provincial safety and sanitation standards. This is another great reason to rent disposal bins from a reputable company, and not have to worry about how things get properly recycled in your community at your local waste management centre.
Disposal bin rentals in Toronto are essential to the infrastructure and sustainability of any municipality, especially these days when construction projects are around every corner. Everyone wants to live in a clean, safe community, and A&G ensures that is possible. We love to exceed the environmental standards of our industry with every project we take part in!
Booking a Disposal Bin Rental in Toronto
A&G has a range of rentals and waste management services to offer. And we would love to hear from you! If you have any questions about our services or are in need of a quote, reach out and discuss it with us anytime.
Ready to book A&G's disposal bin rental services in Toronto? Book with us today!
Author:A&G Team