Get Your Commercial Parking Lot Ready for the Spring
Posted on 19 March 2019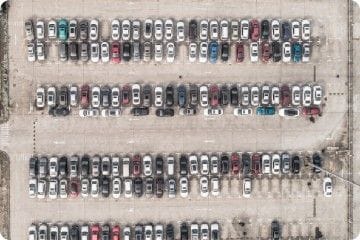 The sun is shining, the birds are singing, the snow is melting, and there are potholes everywhere. But spring is all about cleaning and now is the perfect time to repair damage, clean up, and take preventative measures to get your parking lot ready for the good weather.

General Tidying
The first thing your commercial parking lot needs is a thorough tidying. Clear away all snow and dust particles, storm debris, and litter. This will provide a foundation for what comes next.
Related: Spring Street Cleaning: Sweeping Away Salt & Sand for the Season

Flush Out Storm Drains
Excess ice and hard slush can clog your storm drains during the winter and prevent the accumulated water from draining properly. Clear out your storm drains so that the water can drain, preventing future cracks and potholes from developing in your parking lot.

Choose Seal Coating
When you decide how you're going to deal with any cracks that have developed over the cold season, choose seal coating. This will protect your parking lot from minor damages and make the surface shiny and smooth.

Repair Those Potholes
There's nothing more aggravating to a car on the road than a pothole. When people know that there are potholes on a stretch of road, they avoid it. You don't want them to avoid your parking lot. Repair all potholes as soon as possible to make your parking lot a welcoming place for every car that wants to park there.
---

For an expert commercial parking lot cleanup to prepare you for spring, contact us today!