How Street Sanitizing is Keeping Municipalities Clean During COVID-19
Posted by A&G Team on 6 July 2020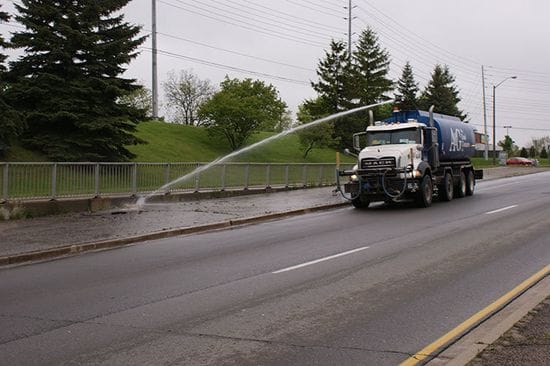 As Ontario dives into Phase 2 of re-opening during the COVID-19 pandemic, safety and constant sanitization are top-of-mind for everyone. We are all doing our part to make sure our communities stay healthy and stop the spread, and this includes keeping our public spaces sanitized. Removing dust, dirt, and debris from streets and parking lots, and keeping sewers and water supply systems clean is essential to keeping our municipalities healthy.
Let's Get Real About Keeping Our Public Spaces Clean
As businesses or operators in public spaces reopen, there is an immediate need to review cleaning procedures and protocols. In this time of COVID-19, we need to up our sanitization game to curb any risk of infection in or around our businesses. There are many requirements to take into consideration when reviewing your particular business' sanitization plan:
Municipal cleaning requires the correct equipment including gloves, masks, and disinfectants
You must use disinfectants which are not harmful to people or the environment
You must have the knowledge and use the correct protocols to maintain the constant safety of your workers and your customers
This may seem like an overwhelming task to take on in addition to re-starting and running your business, but we guarantee that a little planning will go a long way.
What Can an Outdoor Commercial Property Cleaning Service Take Care Of?
At A&G, we've been on the frontlines, street sanitizing since COVID-19 began, and have the correct equipment, protocols, and people to ensure your commercial property surpasses any and all standards put forth by officials in your municipality. No matter where you are in the Greater Toronto Area, we offer a multitude of services to put your mind at ease when it comes to outdoor sanitization, including:
Parking Lot and Street Sweeping: With over 25 years of experience and a newly outfitted, state-of-the-art street sweeper fleet, we can tailor our road cleaning services to each specific client's needs.

Parking Lot and Street Flushing: Our state-of-the-art water trucks & equipment removes dust and debris from any rural, municipal, or city road, as well as commercial properties.

Construction Site Clean-Up: As we all know, construction sites are on the top of the list for inspections and possible shut-downs if cleanliness during COVID-19 is not up to par. A&G specializes in site clean-ups and is available 24/7 for on-call service.

Have questions regarding COVID-19 and sanitization plans? Contact us anytime to learn more about how we can help with commercial and municipal cleaning.
Author:A&G Team