About A & G The Road Cleaners Hydro Evacuation Services
Posted by A&G Team on 30 June 2023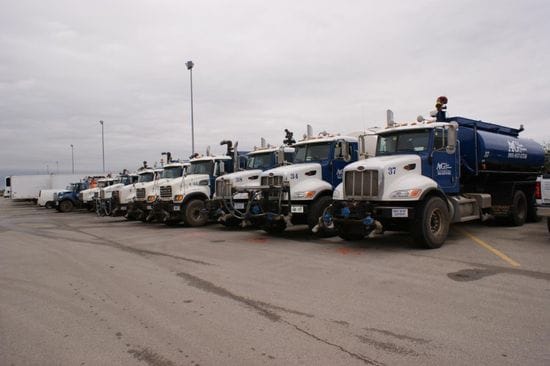 The uses and benefits of street sweeping are prominent from municipalities to city streets alike. From maintaining our city guideline standards to expediting time-consuming and messy tasks like construction site cleanup, sewer cleaning, and rainwater cleanup, it's the tools that enable street sweepers to complete these important tasks with ease. As the GTA's leading street sweeping team, A& G Canada provides industry-leading tools and services, including Hydro Evacuation. Read on to learn about Hydro Vacuum Evacuation.
Hydro Vacuum Excavation: What Is It?
Hydro vacuum excavation, often known as hydro-vac, is a secure, non-intrusive cleaning technique that excavates and removes dust, filth, and debris using high-pressure water and powerful vacuums from a hydro excavation truck. By using a non-invasive technique called hydro-vac excavation, the risk of damaging subsurface utilities is eliminated and less environmental damage is caused than by human or mechanical digging, which can break gas lines or fibre optic cables underground.
How Much Does Hydro Evacuation Cost?
It's not a simple option to purchase a hydro vac or straight vac truck for your business. These trucks are extremely expensive investments for the majority of contractors to make, with the more equipped trucks easily costing $100,000 to $500,000 or more.
Why Would Someone Use A Hydro Evacuation Truck?
The dirt and debris on the job site are broken up by hydro excavation trucks using a mix of high-pressure water and a strong vacuum and are then promptly hauled away by being dumped into the unit's debris tank.
About A & G Canadas Hydro Excavation and Sewage Cleaning Services
In order to filter stormwater and wastewater effectively, a municipality's water infrastructure must be kept in good condition. This guarantees the population access to fresh, filtered water as well as a clean and sanitary environment.
About A & G Canada
With the assistance of our helpful and skilled personnel, we have developed into one of Toronto's major street sweeping businesses, with the infrastructure, equipment, and leading-edge street sweepers necessary to handle any municipal or commercial work.
Our fleet has grown as a result of the addition of cutting-edge tilt and load trucks, dump trucks, and water trucks, allowing us to increase the number of Toronto street cleaning, parking lot sweeping, and commercial property services we offer. The range of our road care services, which now include power washing, street flushing, hydro excavation, cleanup of construction sites, trash bin rentals, municipal snow plowing, commercial power sweeping services, and more, is unmatched by any other road cleaners in Toronto.
Each commercial street sweeper is equipped with real-time GPS computers, and we staff a 24/7 operations centre to respond to customer emergencies. We digitally track our sweepers and vehicles so that we can send a crew right away to any place that needs urgent assistance. All of this is made possible by our infrastructure, which includes the most environmentally friendly fleet in the sector.
For Your Hydro-Vac Evacuation, contact us right away!
Toronto has been in awe of our street sweeping and road cleaning services for 25 years. For communities all around the Greater Toronto Area, A&G The Road Cleaners offers hydro excavation and sewage cleaning services. We provide Toronto's largest and most dependable sewer backup cleaning, hydro excavation, and hydro-vac services, from routine maintenance to 24/7 emergency calls! Contact the experts at A&G The Road Cleaners right away if you need a quick and effective hydro-vac excavation or sewer cleaning service because you are in deep water.
Author:A&G Team