Spring Street Cleaning: Sweeping Away Salt & Sand for the Season
Posted on 13 April 2018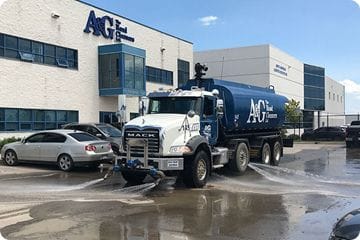 It's a classic case of 'what have you done for me lately?'.
We welcomed salt & sand on our city and rural roads as a safety measure against the hazards of slippery snow the past few months. And now that spring's approaching? We repay these nameless particles of the earth by sweeping them away in preparation of the new season.
Don't feel bad for these inanimate minerals. Salt and sand not only detract from neighbourhood aesthetics, but the longevity of the roads, parking lots, and commercial properties they were employed to protect in the winter, as well as the health of the environment and people in it.
Here's how you can get spring cleaning started early with our street sweeping advice for the season.
Don't Get Salty about Street Sweeping
No one likes spring cleaning. But if we had a choice, we'd do it with state-of-the-art machinery that makes it fun instead of frustrating.
The most effective way to remove the masses of sand and salt accumulated over the winter is a premier street sweeping & parking lot cleaning service. It's the fastest, most cost-efficient, and - most importantly - environmentally-conscious method of removing sand, dust, and salt.
Preserving air quality and minimizing the spread of dust particles is of equal importance to keeping streets, parking lots, and commercial properties clean. Today's top-of-the-line sweepers adhere to rigid environmental safety standards and health regulations, managing the size and density of debris being swept away. This ensures the environment isn't permanently affected by salt and sand, and protects people's respiratory and cardiovascular health, too.
Street sweeping also keeps salt from seeping into water catchment areas or nearby aquatic ecosystems, further safeguarding our environment. It also makes roads safer for drivers, and improves the appearance of city roads and commercial areas.
The Spring Cleaning Schedule
You should schedule property maintenance or street sweeping services to begin no later than the end of April, or early May (early April, or the end of March is even better, weather permitting). Arterial roads are taken care of first, followed by residential streets. If you're in need of parking lot sweeping or commercial property cleaning, try to book these services ASAP, as people in similar spring cleaning situations are waiting for the snow to melt like you are.
In terms of street cleaning, a typical service consists of two processes:
A mechanical street sweeper that's designed to sweep and remove heavy sand and salt deposits, as well as large debris, will do a once-over of the city's roads, followed by;
A second pass of the street with a vacuum sweeper to remove the finer materials that may remain. This sand and salt is removed in environmentally-responsible ways, ensuring nothing enters the ecosystem or water catchment areas.
From there, a city or town's spring cleaning checklist is nearly complete. Your street cleaning service crew should weep where necessary over the next few months, and take inquiries from residents that report salt or sand buildups in streets, parking lots, or commercial areas.
Unfortunately, you can't apply your in-home spring cleaning methods (drinking alcohol and spraying everything with Febreeze) to city streets, parking lots, or commercial properties.
Sweep away all the salt and sand in time for spring - schedule a street sweeping, parking lot cleaning, or commercial property clean-up with A&G - The Road Cleaners today!