Did You Know? A&G Has Street Sweepers for Sale!
Posted by A&G Team on 9 March 2021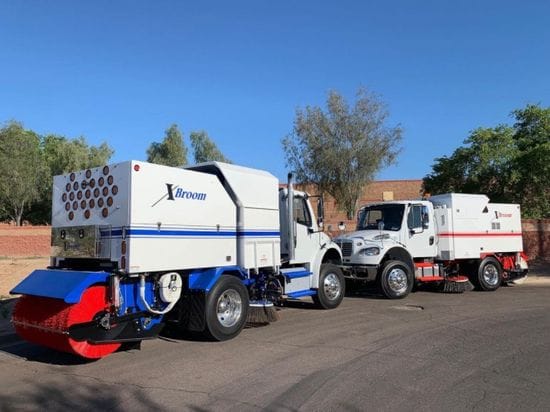 Did you know that A&G is the official dealer of XBroom Street Sweepers by Nescon? With a background in general contracting and asphalt milling, Nescon has a ton of experience with cleanups, as well as a great understanding of the ins and outs of street sweeper trucks. In order to make theirs one of the most efficient and productive road cleaners on the market, they have worked out the issues they found with other sweepers. This is why A&G is proud to partner with, and exclusively offer these street sweepers for sale in Canada.
XBroom Street Sweepers
XBroom Street Sweepers have been best in class street sweeper trucks for 8 years and are both rugged and built to last. The incredible efficiency and productivity of the XBroom's design allows for virtually single-pass sweeping clean-up on all roadways. It's design holds a high volume of load so that more time can be spent sweeping and less time having to dump.
So what sets the XBroom apart from other sweeper trucks for sale? Nescon's XBroom boasts the longest sweep time, largest hopper, and an extremely rugged construction. Its hydraulic system has only three pumps, and each operates at minimum pressure required to carry the load. One pump runs the gutter brooms, one runs the elevator, and one runs the main broom. The elevator can handle 10.8 million revolutions before having to rebuild, while sweeping millings and road grindings. It also has the largest hopper capacity in its class, which holds a total volume of 5.9 cubic yards with a usable net capacity of 4.9 CY. This leaves more time spent sweeping and getting the job done quicker! Ease of operation and more time on the road make these XBroom Street Sweepers the best for any roadway clean-up.
A&G's New Online Shop
A&G also just launched a brand new online shop where you can purchase some fantastic, high-efficiency street sweeping brooms. Manufactured by A&G's very own OEM supplier, Keystone Plastics Inc., these professional street sweeper brooms and brushes are the same ones our road cleaners have used and trusted for years. We are now offering our Our All-Pro Strip Brooms, All-Pro Combo Strip Brooms, Tube Brooms, Gutter Broom, Wafers, Filament, and custom brush solutions for purchase online.
To book a street sweeping service from A&G, or to purchase our fantastic assortment of street sweeping brooms, check out the online store today!
Author:A&G Team