What Can The A&G Road Cleaners Do For You?
Posted by A&G Team on 27 February 2023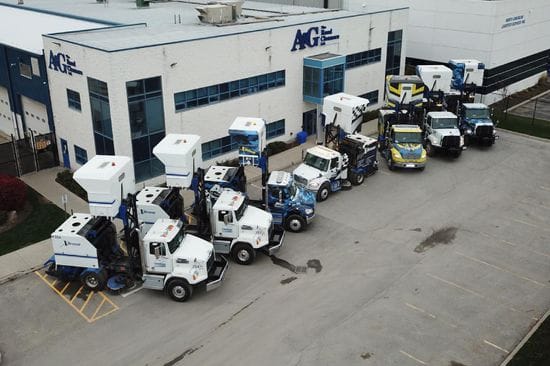 A & G The Road Cleaners is outfitted with industry-leading street sweepers, road cleaning equipment, and infrastructure to manage any municipal or commercial job. For over 25 years, our family-owned and operated Toronto power sweeping, street sweeping and road cleaning services have established themselves as customer-first.
No other road cleaners in Toronto can match the breadth of our road maintenance offerings, which now include power washing, street flushing, hydro excavation, construction site cleanup, trash bin rentals, municipal snow plowing, commercial power sweeping services, and more. Read on to learn more about what The A&G team can do for you.
Street & Parking Lot Flushing Services
A & G The Road Cleaners' parking lot and street flushing in Toronto, led by state-of-the-art water trucks & equipment, removes dust and debris from any rural, municipal, or city road, as well as commercial properties.
Pressure Washing Services
Make a strong first impression on the public and give your property a vibrant restoration with A&G's The Road Cleaners pressure washing services. Our mobile pressure washing is suited for commercial buildings, municipal sidewalks, parking lots, and roads. Scheduled road cleaning services not only create curb appeal but adds longevity to building exteriors and paved roads. Grime amalgamation, salt residue, and air pollution can all contain chemicals that deteriorate paint, stone, or asphalt over time.
Dump Truck Rental Services
A dump truck rental from A&G The Road Cleaners is a solid, affordable solution for construction companies transporting loose materials to and from a work site.
Dump truck rentals are regularly employed for:
Asphalt Hauling

Excavation Work

Granular Transportation

Each large or small dump truck rental is hydraulically operated for easy loading and offloading of construction materials, including fill dirt, sand, gravel, concrete, asphalt, and anything else on site.
Depending on the size and weight of transported materials, we offer three types of hauling truck rentals at competitive dump truck rental rates, to meet any size job.
Live Bottom Trailer Rental Services
Perfect for uneven terrain and low overhead work areas, a live bottom trailer from A&G is able to discharge an even flow of materials, making tasks like laying down asphalt much smoother.
Hydro Evacuation and Sewage Cleaning Services
If you're in deep water and require fast and efficient sewer cleaning service or hydro-vac excavation, look no further than A&G The Road Cleaners in Barrie.
Disposal Bin Rental Services
A&G The Road Cleaners garbage bin rental service is a simple waste management solution that's environmentally responsible and cost-effective.
We regularly provide a range of bin rentals for construction, demolition, industrial, and commercial projects, with competitive disposal bin rental rates and 24/7 service throughout the GTA.
Tilt, Load & Float Services
A&G The Road Cleaners Barrie houses dynamic tilt and load trucks that range in size and capacity, meaning we'll have the ideal truck on-call for your project.
Municipal Snow Plowing & Salting Services
A&G The Road Cleaner's comprehensive snow plowing and salting services provide additional value to the city of Barrie by reducing hazards of slippery roads, minimizing economic losses in the community due to inaccessibility to the area, and more.
Construction Clean-Up Services
Relying on contractors for proper construction cleanup can create a bigger mess than you started with. Offbeat construction schedules make it difficult to align any post-construction cleaning services, potentially delaying move-in dates or building deadlines. With 24/7, on-call service, and over 80 street sweepers, water trucks, and crash trucks, A&G The Road Cleaners ensure your construction site is immaculate for opening day.
Contact the A&G The Road Cleaners
A&G The Road Cleaners is Toronto's largest provider of road maintenance and street sweeping services! We offer street sweeping, power sweeping, and parking lot sweeping services, plus an array of cleanup offerings ranging from post-construction site cleaning to hydro excavation, and snow plowing services. For more information about what the A&G Road Cleaners can do for you,
contact us
today.
Author:A&G Team