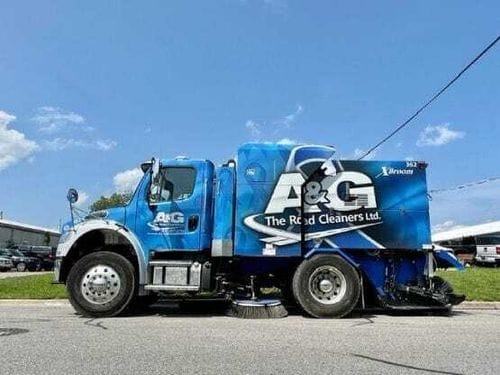 Parking Lot Sweeping & Street Sweeping Services - Min of 4 Hours
Book now and see why municipalities and commercial businesses in the GTA have relied on A&G's parking lot sweeping and street sweeping services for over 25 years!
We have 3 different types of sweepers:
Regenerative Dustless Sweeper
Mechanical Sweeper
Vacuum Sweeper
For full service details, please see description below.
Please note that there is a minimum of 4 hours with our parking lot and street sweeping services, with each additional hour available starting at a rate of $156/hr (3 hours onsite +1 hour Travel Time).
If there is no spot on-site, dumping will result in a surcharge of $300
Extra charges for Fuel Surcharge, Environmental and overnight fees will apply at time of final invoicing.
Book Toronto's meanest, cleanest, and greenest parking lot sweeping and street sweeping services!
Our newly outfitted, state-of-the-art street sweeper fleet allows us to tailor our road cleaning services to each client's unique needs. With over 80 sweepers ready-to-go at all times, we offer the most comprehensive road cleaning services and are also the only Toronto street sweeping and commercial power sweeping service that is on call 24/7!
A&G meets and exceeds Ontario's rigid environmental safety standards and health regulations.
With health regulations at an all-time high, and a concern for the environment always in mind, each of A&G's street sweepers and parking lot sweepers not only meets but surpasses environmental quality control tests, with all fleets being PM10-compliant and PM2.5-compliant.
With our commitment to preserving air quality and minimizing the spread of dust particles and germs, we are ensuring the health and safety of our communities and we take that task very seriously!
Our team of road cleaners understands that without proper management of the quantity and size of dust particles, those in the vicinity put their respiratory and cardiovascular systems at risk. That's why every commercial power sweeper we employ measures and manages dust particles and air quality, exceeding guidelines set by the World Health Organization (WHO).
Book parking lot sweeping/street sweeping services above or return to all services.