A&G Launches Online Booking System and Shop
Posted by A&G Team on 4 February 2021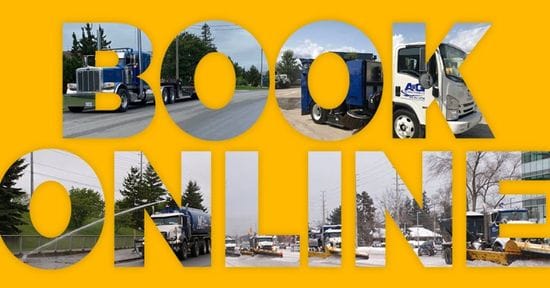 A&G has officially launched an online booking system and online shop! You can now book some A&G services and purchase professional street cleaning brooms directly on our website.
Booking A&G Services Online
For your convenience, we are now offering easy, remote, and affordable online booking, giving you the power to reserve our top-rated services anytime and from anywhere! We are so pleased to be able to offer a few of our most popular services to be booked online now. These services include: Parking Lot Sweeping and Street Sweeping Services, Pressure Washing and Power Washing Services, Road Salting and Snow Plowing Services, Tilt, Load and Float Services. Each of these services can be booked for a minimum of 4 hours, with time and add-ons (such as dumping services) available at check-out.
When you book online with A&G, you will experience our unparalleled customer service. A&G has live dispatch 24 hours a day, 7 days a week, to be able to send out a street sweeper or road sweeper at a moment's notice. A&G has the largest and most environmentally-conscious fleet of street sweepers, water trucks, and dump trucks in the province, and we are committed to keeping our communities safe and clean. A&G also boasts the latest and greatest road cleaning equipment in the industry and we work to maintain and improve our equipment constantly to stay at the top. We have over 25 years of experience in this industry and our customer service is a top priority.
To book these A&G services online, simply go to the online booking engine, click "Add to Cart" on the service you wish to book, input any additional hours or add-ons you'd like to include in your cart and then click "Add to Cart". When you're satisfied with your shopping cart, click "Proceed to Checkout" and either login, register with us for future convenience, or continue as a guest for ease. Simply fill in your address and payment details and you're good to go!
A&G's Online Shop
Looking to purchase some of our most popular street sweeper brooms? Manufactured by A&G's very own OEM supplier, Keystone Plastics Inc., these professional street sweeper brooms and brushes are the same ones our road cleaners have used and trusted for years. Your options for online purchase include: our All-Pro Strip Brooms, All-Pro Combo Strip Brooms, Tube Brooms, Gutter Broom, Wafers, Filament, and custom brush solutions. We are so pleased to offer these tried, tested, and truly gold standard road cleaning brushes for your convenience.
Try out A&G's new online booking and online shop today! We look forward to working with you.
Author:A&G Team