Fall Street Sweeping, Clean Streets, Cleaner Environments
Posted by A&G Team on 28 August 2023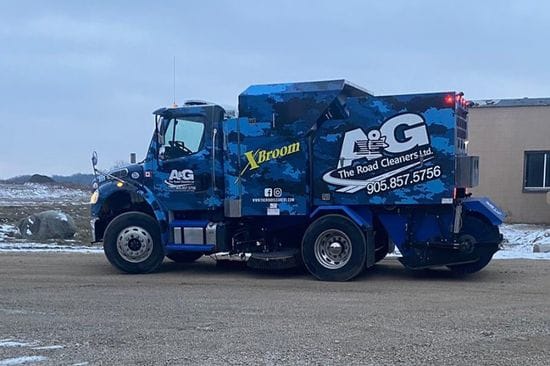 Professional street sweeping provides a variety of benefits. From protecting the environment to increasing the safety of our everyday activities like driving, professional street sweeping removes debris that can be harmful to our livelihood. In addition to improving our environmental conditions and everyday activities, professional street sweeping provides financial and critical benefits for our homes and buildings. Read on as the A & G Road Cleaners team explains some of the many benefits of professional street sweeping.
Street Sweeping Safeguards Our Homes From Harmful Materials
Street sweeping removes materials that can be hazardous to our homes: from bacterial build-up on the pavement to pieces of glass and nails on the roadways, Professional street sweeping removes materials that can cause major damage to our infrastructures and homes.
Street Sweeping Increases The Value Of Our Homes And Communities
In ensuring our buildings and streets are safe and clean from hazardous materials, street sweeping adds a significant amount of value to our houses and neighbourhoods by enhancing their aesthetic appearance. Bacterial buildup, pollutants, grime and dirt accumulate in our areas over time. Without professional street sweeping, the build-up of dirt within our environments is blown into our properties through the air causing the exteriors of our houses to look dirty and unkempt.
Street Sweeping Increases Our Property Value By Maintaining The Components Of Our Homes
Grime accumulates within the environment from rainfall, mud splatter and construction debris. After grime and debris enter the environment it travels into our homes and can cause damage to our property functions without professional street sweeping.
What happens to our properties when debris enters them? When debris is carried from the outdoors into our properties, the consequences can be quite chaotic for the interior and exterior properties of our homes. Outdoor debris that is carried through airflow from the outdoors into our homes as a result of improper street sweeping results in clogged furnaces, dirty pools and bacteria build-up.
How A&G The Road Cleaners Street Sweepers Preserve Air Quality And Safety Standards
Environmental safety standards and health regulations in the industry have never been more rigid. Each A&G street sweeper and parking lot sweeper surpasses environmental quality control tests, all being PM10-compliant and PM2.5-compliant. Preserving air quality and minimizing the spread of dust particles is of equal importance to keeping streets clean. Without proper management of the quantity, and size, of dust particles, people in the vicinity put their respiratory and cardiovascular systems at risk. Every commercial power sweeper we employ measures and manages dust particles and air quality, exceeding guidelines set by the World Health Organization (WHO).
Start Your Fall Street Sweeping Today!
As the leaves are turning colours, and the air is becoming brisker, enjoy the fall season with the comfort that your house is debris-free from professional street sweeping. Led by our friendly and knowledgeable staff,
A&G The Road Cleaners
has grown into one of the largest street sweeping companies in Toronto, outfitted with
industry-leading street sweepers
, r
oad cleaning equipment
, and infrastructure to manage any municipal or commercial job.
Contact us
today to start preserving your property!
Author:A&G Team