What to Expect From Parking Lot Cleaning Services
Posted by A&G Team on 9 June 2021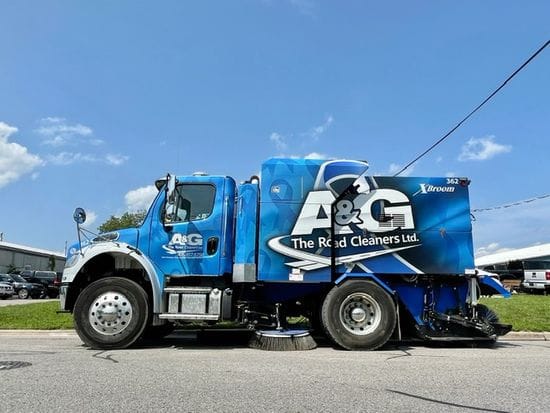 Whether you run a commercial complex or a private business, parking lots tend to be a magnet for dirt and debris. Certain factors can play into parking lots requiring more or less maintenance, of course. For example, being next to major roadways, providing parking for a mall or restaurant where there is a lot of traffic in and out, and weather can all lead to more frequent parking lot maintenance. Here's what you can and should expect when you're booking parking lot cleaning services.
Parking Lot Sweeping Services
Because A&G has over 80 street sweepers in our industry-leading fleet, we are able to tailor our cleaning services to each client's specific needs. Managed by experienced road and parking lot cleaners, A&G is the only Toronto street sweeping and commercial power sweeping service that's on call 24/7. You can call us whenever your lot is in need of a sweep and we'll be there ASAP to get it back into great condition.
You'll find when you work with A&G that our parking lot cleaning equipment completely minimizes the spread of dust particles while doing its job, leaving people in the vicinity with clean air to breathe during the process. This means that you won't have to worry about customers coming through or arriving soon after a sweep has taken place in your parking lot.
Each A&G parking lot sweeper surpasses environmental quality control tests, all being PM10-compliant and PM2.5-compliant. You'll have peace of mind knowing that not only is your parking lot in amazing shape, but you're helping the environment and your neighbouring businesses with air quality control as well.
Parking Lot Flushing Services
If you're looking for a deeper clean, perhaps after a long winter - you may opt for a parking lot flushing service. Like parking lot sweepers, parking lot flushing reduces the environmental impact of dirt and debris by eliminating it and reducing instances of residual debris entering storm sewers. This also enhances the quality of stormwater treated in a town's filtering process!
Not only does regular maintenance of your parking lot help the environment, but it also contributes greatly to curb appeal. Most potential customers will judge a book by its cover (aka the area around your commercial business), and parking lot flushing ensures they see that the book is as good as the cover.
Snow Removal Services
Snow plowing, as you know, is a part of life in Canada. But the annual snow removal struggle can be made simple with A&G's snow removal services. You can decide to book a one-time removal or sign on for a seasonal snow removal contract, whichever works best for you and your business. A&G's state-of-the-art snow plow equipment can clear snow in your lot whenever you need it and keeping on top of your parking lot's snow removal can lead to a reduced hazard for motorists and pedestrians on your property, less revenue loss due to inaccessibility, and generally reduce stress levels during the cold winter months. A&G can also come to prepare your parking lot for big snowfalls ahead of time, with salting and sanding services.
Booking Services Online
For your convenience, A&G the Road Cleaners is now offering easy, remote, and affordable online booking, giving you the power to reserve our top-rated services, including parking lot sweeper rentals, anytime and from anywhere! We are pleased to be able to offer a few of our most popular services online. These services include: Parking Lot Sweeping and Street Sweeping Services, Pressure Washing and Power Washing Services, Road Salting and Snow Plowing Services. Each of these services can be booked for a minimum of 4 hours, with time and add-ons (such as dumping) available at check-out. An even easier way to book these important services for your parking lot.
Ready to book A&G's parking lot cleaning services or want to discuss further? Contact us today!
Author:A&G Team