Water Truck 101: The Benefits and Uses of Water Truck Rentals
Posted by A&G Team on 30 March 2023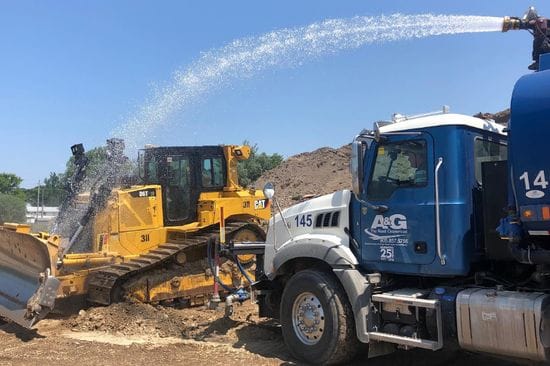 Water Truck 101
As opposed to commonly referred to trucks, such as Fire Trucks, Dump Trucks and Pickup Trucks, Water Trucks are not commonly used in everyday conversations. However, although not regularly referred to in our daily discussions, Water Trucks provide a multitude of benefits. Here are some reasons why having access to a reliable water truck rental service is essential.
What Are Water Trucks?
Water Trucks are specialized vehicles specifically designed to safely and efficiently transport large amounts of water ranging from 2,000 to 20,000 gallons to remote job sites. Any task that requires large amounts of water benefits from renting a Water Truck, such as filling up your pool, removing dust from a construction site, and pressure washing.
Get an Affordable Water Truck Rental
Renting a water truck from A&G The Road Cleaners is an affordable and reliable solution for any time you need a portable water supply in the GTA.
Our water truck rentals come in a variety of sizes to suit your needs, from larger water trucks suited to transporting a lot of water around large open-air spaces like construction sites to smaller trucks made for smaller spaces, like a pool fill-up in your backyard.
Water truck services are commonly used in:
Water trucks are a vital part of cleaning up an outdoor construction site, clearing the area of dust and debris.

Road Compaction

It's easier to compact soil when it's moist, so the construction industry often employs water trucks before and after construction projects for road or soil compaction.

Directional and Geothermal Drilling

Water trucks are often used for drilling with concentrated, high-pressure jets of water.

Dust Control

Excess dust creates a variety of health hazards for construction workers and passers-by. Water trucks dampen dust to prevent it from blowing around.

Water Delivery and Fill-up for:

Water Main Tests

Water Tanks

Reservoirs

Swimming Pools

Canon-enabled Sod Watering

It's important to get new sod as soon as possible so that they don't dry out prematurely. Water trucks are often used to water large areas of sod with the right amount of pressure.
Whether you need a water truck to fill your pool water supply, for a power wash to clean up your construction site, or for other portable water requirements, get in touch for water truck rental rates today!
Contact the A&G The Road Cleaners
A&G The Road Cleaners is Toronto's largest provider of road maintenance and street sweeping services! We offer street sweeping, power sweeping, and parking lot sweeping services, plus an array of cleanup offerings ranging from post-construction site cleaning to hydro excavation, and snow plowing services.
If you have any questions about one of our many road cleaning services or would like to request a free quote,
contact us today
, and an A&G representative will get back to you promptly. Thanks for choosing A&G The Road Cleaners!
Author:A&G Team