Tilt, Lift and Float Services
Posted by A&G Team on 23 December 2022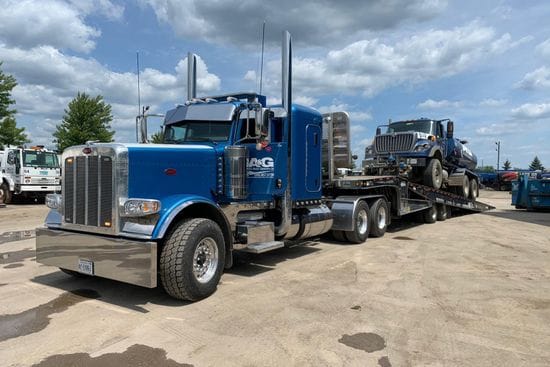 Investing in tilt, lift and float service vehicles is a safer way to transport your equipment during various projects. If you are transporting construction items, machinery or vehicles, there is the potential to experience an injury. Investing in professional tilt, lift and float service vehicles is a safe way to ensure that your objects are safely transported to their destination while saving you time and protecting your physical health. Through specialized machinery and technology such as cylinders, tilt, lift and float service vehicles are designed to load and transfer various types of machines and equipment safely and efficiently.
Tilt, Lift & Float Services Increase Project Efficiency
When your project is in action, placing your onboarded project employees in hazardous or distracting environments, may also place them at risk of physical injury. Investing in professional tilt, lift and float services may reduce the hazardous materials and environments during your projects and increase the productivity of your project.
Transport Anything with A&G's Tilt, Load and Float Service
No road maintenance service in the GTA can match the fleet of tilt, load, and float service trucks used at A&G The Road Cleaners.
These cost-effective tilts and load trucks allow for easy unloading and offloading at dock-level height or ground level, making transport effortless. Our tilt, load, and float services are ideal for moving materials and machines to and from construction sites, thanks to flexible roll-on/roll-off and winch-on/winch-off capabilities outfitted throughout our tilt trucks.
Load & Tilt Trucks
We house dynamic tilt and load trucks that range in size and capacity, meaning we'll have the ideal truck on-call for your project.
Every tilt, load, and float service truck is equipped with a steel deck, allowing them to carry loads of up to 50 tons. The remote control winch power system enables us to lift and transport nonoperational equipment, like construction forklifts or skid-steers that require off-site maintenance.
Float Service in Toronto
A&G's float service has expanded exponentially over the past decade, which now carries various float tractors and uses trailers.
Landoll Tilt and Slide Trailer - Our most popular float trailer. Ideal for large heavy machinery loads, including rollers, pavers, large containers, multiple forklifts, scissor lifts, etc.
About A & G The Road Cleaners
A & G The Road Cleaners is the largest company for Toronto street cleaning, parking lot sweeping, and power sweeping services. We provide comprehensive cleaning solutions and street-sweeping services for municipalities and commercial properties across Southern Ontario.
Rent your tilt, load, and float service truck with A&G today.
Contact us
for more information about our heavy equipment hauling rates.
Author:A&G Team