Winter pressure washing tips
Posted by A&G Team on 24 November 2022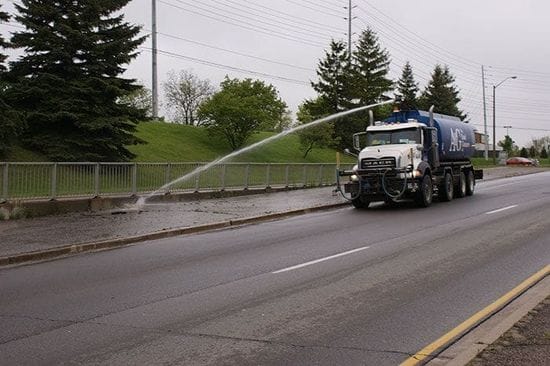 When it's in our food it creates a great flavour, but too much of it is bad for our health. When it is on our roads it reduces slipping, but an abundance of it is bad for the environment. We are talking about salt. With winter approaching, we are putting our summer clothes away and putting the winter tires on our cars. While doing your winter prepping, a great way to plan for the colder months is to plan your street sweeping in anticipation of the snowfall and accumulation of salt on your street.
The Importance of Street Sweeping for Salt
Too much salt on your driveway can damage your driveway over time if not properly removed. Another negative aspect of having too much salt on your driveway is that it can be harmful to the environment once washed away by the trees and grass. Take effective measures to prevent salt environmental and driveway damage by contacting A & G street-sweepers.
Prepare For Winter with A&G The Road Cleaners
A&G The Road Cleaners' comprehensive road salting and snow plowing services include more than simply clearing roads or parking lots. Available on a contractual basis or as-needed on-call 24/7! Don't let ice and snow get in the way, book our commercial road salting and snow plowing services today!
No stranger to Toronto's unpredictable winter weather, A&G's comprehensive snow removal services include more than simply salting and clearing roads and parking lots. Our team of road cleaners adds value by:
Reducing hazards of slippery roads and commercial properties for vehicles and pedestrians

Increasing accessibility to the area, resulting in minimized economic losses for your municipal or commercial property.

Creating safer public transportation/school bus routes year-round

Surpassing Minimum Maintenance Standards (MMS), as defined by the Ontario Government

Increasing road salting and commercial snow plowing for job and construction sites

Operating heavy-duty snow plow trucks and top-of-the-line equipment
We don't just preach being proactive, we practice it! In addition to our emergency commercial snow plowing services, available 24/7, we also specialize in preparing streets for heavy snowfalls, through a combination of pre-wetting, salting, and sanding. Our road cleaning services make roadways in Toronto and the Greater Toronto Area (GTA) more manageable post-snowstorm and help prevent potentially dangerous ice build-up.
About A & G The Road Cleaners
For over 25 years, our family-owned and operated Toronto power sweeping, street sweeping and road cleaning services has established itself as customer-first - without you, there would be no business after all.
Led by our friendly and knowledgeable staff, we've grown into one of the largest street sweeping companies in Toronto, outfitted with industry-leading street sweepers, road cleaning equipment, and infrastructure to manage any municipal or commercial job.
We've added state-of-the-art tilt and load trucks, dump trucks, and water trucks to our fleet, enabling us to expand our line of Toronto street cleaning, parking lot sweeping, and commercial property services. No other road cleaners in Toronto can match the breadth of our road maintenance offerings, which now includes power washing, street flushing, hydro excavation, construction site cleanup, trash bin rentals, municipal snow plowing, commercial power sweeping services, and more.
And with real-time, GPS computers onboard each commercial street sweeper, our 24/7 operations center is always on call to meet the emergency needs of our customers. We track our sweepers and trucks digitally, so we can immediately dispatch a crew to any location that requires urgent attention. This is all made possible through our infrastructure, featuring the most environmentally-conscious fleet in the industry.
Contact A&G The Road Cleaners for all your pressure washing needs.
Author:A&G Team