How Road Salt Works to Keep Communities Safe
Posted by A&G Team on 6 January 2022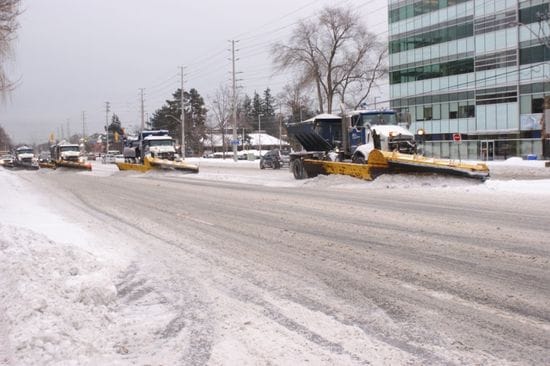 Good old road salt…we've all heard it crunch underfoot on winter sidewalks and many have struggled with bags while pouring a careful stream of it onto driveways. It's such a staple of Toronto winters that most of us never even think about it. Today, we're talking about road salt in the GTHA, one of the most essential parts of winter.
Is Road Salt the Same As Table Salt?
Technically, yes: road salt and table salt are both forms of NaCl, or sodium chloride. However, before you run out to your icy driveway with your salt shaker (or worse, start scraping your seasoning off the sidewalk), it's important to note that table salt is purified for human consumption, while road salt is not.
How Does Road Salt Work?
A little bit of road salt and presto, the roads are safe! But how does it actually happen?
Road salt doesn't really melt ice; it works thanks to freezing-point depression, which means that the salt prevents water from freezing at its normal temperature, lowering it to prevent ice from forming or from staying frozen, and breaking up the ice already on the road.
The other key element of road salting is the physics of salt. For the road salt to work, it has to be wet; this usually means it reacts with the thin layer of water that generally coats ice, but it can also mean that water is mixed with the salt when it's sprayed. This process is called pre-wetting, and it helps to speed up the chemical reaction and make it more effective.
Staying Ahead of Bad Weather
Of course, as you've probably guessed, road salt is only effective up to a certain point. There's only so much salt that can be spread, which means that if temperatures dip below a certain point, you can't spread enough salt to lower water's freezing point past the actual ambient temperature.
In cases where salt ceases to be effective, sand is usually the next step. Spreading sand doesn't actually create any kind of chemical reaction, as salt does, and it doesn't melt the ice or prevent more from forming. Sand simply creates traction, preventing cars and pedestrians from slipping on the surfaces. Like salt, sand needs to be pre-wetted in order to work, otherwise it's very easy for it to blow away, leaving roads slipperier than ever.
This is why it's important to stay ahead of bad weather. This allows crews to spread salt before storms hit, which prevents roads from getting icy right away; even if temperatures are predicted to drop drastically, lowering the freezing point of water can still make it more difficult for ice to form, which in turn means it's easier to remove it with snow plows, keeping roads safe for everyone.
The Science of Road Salt, 24/7!
The science of road salt isn't complicated; it's more about logistics and effective planning than anything else. Whether there's a snowstorm on the horizon or you're looking for ways to keep your roads or property safer in the winter, A&G is equipped with a fleet of snow plows and salt trucks, and is on-call 24/7.
Contact us today to learn more about our on-demand or contractual road salting services.
Author:A&G Team